The 16th China International Small and Medium Enterprises Fair has proposed innovative development solutions for global SMEs to explore market, according to the organizers.
The annual fair themed on intelligence, wisdom, smart manufacturing and energy conservation was held in South China's Guangdong province from June 24 to 27. It has been a major platform for SMEs to seek out opportunities and share their practices in doing business since its inaugural session 2004.
Miao Wei, minister of industry and information technology, said: "As of now, the fair has hosted about 50,000 SMEs from home and abroad and invited 19 nations and international organizations as the co-hosts.
"It is now one of the largest and most influential of its kind in China," said Miao.
This year Malaysia and the United Nations Industrial Development Organization acted as the co-hosts and countries involved in the Belt and Road Initative like Vietnam also attended this fair.
"These helped promote practical cooperation in SME development and are important measures for getting BRI and the United Nations 2030 Agenda for Sustainable Development off the ground," Miao added.
According to Ye Dingda, deputy director of the SME bureau of the Ministry of Industry and Information Technology, 39 countries and regions attended the fair and Fiji, Uruguay and Ethiopia were the newcomers.
One of the most eye-catching events of the fair, the "Specialized, Fine, Peculiar, and Innovative" zone was set up for the first time to exhibit more than 1,000 Chinese SMEs' most advanced gadgets.
"We chose to show six inventions from 107 recommended by 21 provinces in China, including 4K ultrahigh definition video camera, nontoxic nonpolluting photochromic material and the world's first fishing robot," said Ye.
Many SMEs, who aspire to access support for investment and financing services, pre-IPO tutoring, product releases, enterprise roadshows and technology exchanges, returned home with fruitful results, thanks to an innovative service zone at the fair.
A series of business matchmaking events were again a spectacular success, including three between Chinese and foreign SMEs and 10 between the supply side and demand side.
"The legal, business, financial and innovation environments for SMEs have greatly improved in China. It is expected that SMEs in China can transform into highquality and technology-based ones and go global," said Wang Jiangping, vice-minister of industry and information technology.
yinruowei@chinadaily.com.cn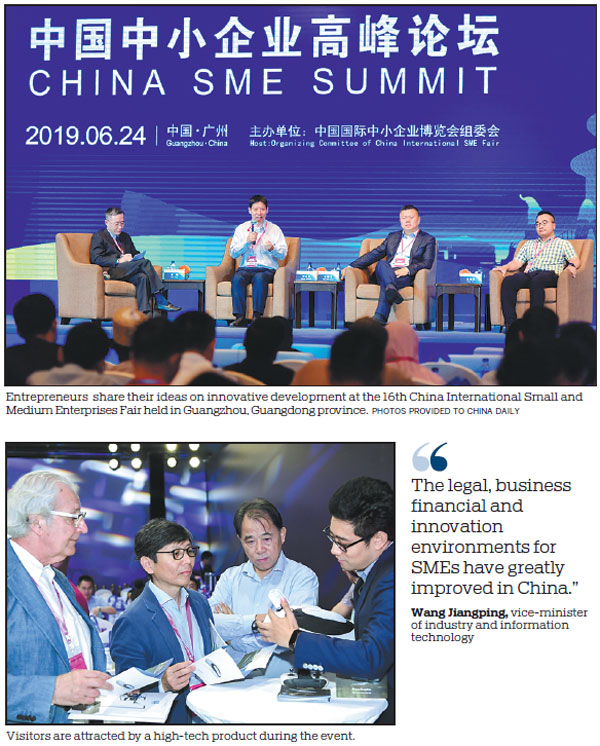 (China Daily Global 06/28/2019 page7)
---